The STRATON® IEC61131-3 soft PLC is integrated into products and solutions supplied by vendors around the world. A list of some of the most popular controller devices using STRATON® is available here. This list is constantly changing so contact us for an update.
The development environment is provided in English, French, German, Italian and Spanish allowing vendors all over the world to distribute STRATON® based solutions with their hardware and software.
Some examples of how STRATON® has been integrated into vendor's products are:
Advantech's ADAM-5550 is part of the ADAM-5000 series of compact, distributed Data Acquisition and Control systems which support the shift toward Fieldbus-based systems. ADAM-5000 series offers two different data acquisition and control systems to allow field I/O devices to easily connect to PC network applications: ADAM-5000 DA&C systems for Ethernet or RS-485; and ADAM-5510 series of PC-based programmable standalone controllers.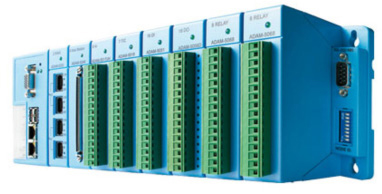 The STRATON® IEC61131-3 soft PLC solution on the ADAM-5550 (running WinCE) really simplifies the configuration and commissioning of systems by providing a single configuration for SCADA, HMI and the device itself and automating most of this using file inputs.
Read more about Advantech and the ADAM-5000 on their website.
---
The Wago 750 (running Linux) and 758 (running WinCE) series of controllers are cost-effective industrial compact PC solutions for real time control applications. In spite of its small size, the IPC integrates all standard PC functions, including network and field bus interfaces, or local and remote control applications.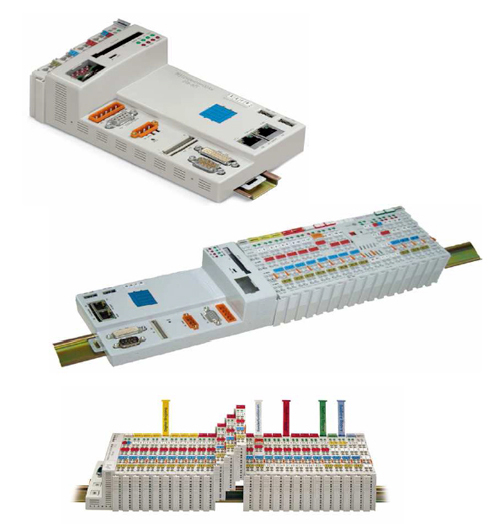 Using the STRATON® IEC61131-3 soft PLC Wago are able to offer their customers a fully distributable control solution running over Ethernet that supports all five of the IEC61131-3 languages. The distributed solution uses a publish-subscribe model that means the resulting network traffic is reduced as much as possible.

The online-change facility in STRATON® allows Wago and their users to freely add variables and function block instances and change the mapping of I/O channels with minimal effect on plant operation.

You can read more about Wago and their controllers on their website.